New to the Lawrenceville square (as in two weeks ago), Local Republic is a quaint gathering space for locals to thrive in an artistic, laid-back space. Giving off the feel of a Decatur/Vinings locale, this sure to be hot spot has an eclectic feel with its smoke gray walls and variety of art. Sporting faux-vintage tee's, the owners and staff crank out some amazingly delicious dishes from a less than stellar-sized kitchen.
My husband and I ventured out onto the square for a date on Friday night. Hearing raving reviews, we decided to hit Local Republic for our meal. Gracious and open armed; the owners greeted us upon entering and offered a table directly by the front window – a perfect view of the historic courthouse and lawn.
Immediately the details of the establishment began to pour into mind. Menus made from plywood, legal paper and rubber bands; tiny bud vases stuffed with fresh flower cuts; vintage metal signs and high top tables; the welcoming patio; diners laughing and conversing – sounds of a well enjoyed meal.
The extensive selection of beer seemed to be almost completely microbrews (and since I'm no beer connoisseur, they may all be microbrews). Our meal began with a selection from the tap and wine list. Situating ourselves with brews in hand, we delved into the menus.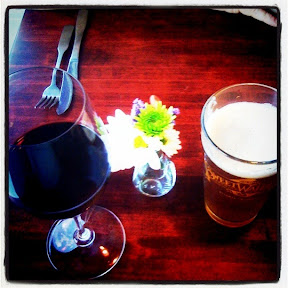 For our appetizer we selected the "Pickled Plate" – an array of tomatoes, carrots, jalapenos, asparagus and green beans that are pickled. We were absolutely in LOVE with this appetizer as it offered a variety of items, all giving a similar and complimentary flavor to one another. It was a lighter choice to kick off this sure to be delightful meal.
For dinner, we had the shrimp and grits. White stone ground grits filled the bottom of the plate with a creamy texture more like that of mashed potatoes. Small bites of sausage and a wonderful sauce drizzled overtop to create the perfect resting place for seven large shrimp perfectly pealed and devained. The flavors combined to create one of the best plates of shrimp and grits I've ever had the pleasure to eat. A large enough portion, we split the meal.
Some key notes:
- With our total bill coming in under $40, this is a budget friendly spot with appetizers and entrees ranging in price.
- The seating area is small with only a handful of tables inside and out. Be prepared to arrive early or to wait – either are a worthwhile option for this place!
- The noise level can be louder due to the size of the establishment; however, the lively scene is upbeat and fun.
- There are no TVs at Local Republic allowing diners to enjoy the dining experience without interruption.
- Word on the street is Local Republic has jazz nights on Tuesdays. Enjoy a great meal while listening to a 4-piece band on the square.
Local Republic is a must addition to your "where should we try" list.