(Yeah, so I stole the Virginia state slogan... I had to! It is so appropriate and all.)
How was y'all's Valentine's? I think I topped myself this year!
I will be the first to tell you that I'm SO BAD at being romantic. Don't get me wrong, a candle lit dinner with soft music and flowers is wonderful. I just feel severely inadequate in the creation of romance. Make sense?
This year, I decided I was going to create a movie worthy, home made, mushy romantic Valentine's evening for B. It took me hours of planning out my design, my menu, my gameplan. As Valentine's day rolled around, I played it cool, but the day of my planning went into action. I pulled out the stops - candles, wine, dinner. I did so well that B was totally impressed!! Yay me!! By the way, I'll post the recipes for out menu of roasted lamb, steamed spinach and roasted tomatoes later. They are tres delish! :)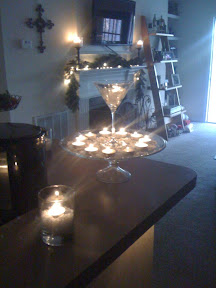 The funny part is, the romance part really wasn't that hard, it just took me some thinking time. What did you do for your Valentine? Or are you an anti-Valentine?
Love to all!
- Posted using BlogPress from my iPhone